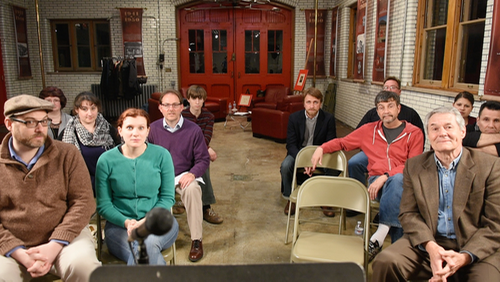 A short film about self-acceptance and stepping outside our comfort zones.
A FAR MORE PLEASING SOUND is the story of a woman named Frances, whose discomfort with the sound of her voice has left her afraid to speak in public. Prompted by the death of a beloved actor with a very distinctive sound (as well as some coaxing from family), she decides to take a big leap and participate in a Shakespeare "sonnet slam" as a way to wrestle with her fear.
The idea of creating my own project had been in the back of my mind for a while, but it never seemed to go beyond conversations with friends about making silly iPhone films or scribbling script ideas in my journal. Then, Alan Rickman passed away. My favorite actor in the world gone, just days after the passing of another huge influence, David Bowie. (Damn you, 2016!)
It was a punch in the gut and a reminder that waiting until tomorrow…or next month, or next year…is not always an option. So, I took a huge leap out of my theater comfort zone and made this film. It may not change the world or win any awards, but it's a sweet little story and a nod & tribute to one of my heroes. I started it. I finished it. I'm putting it out there. And, that's enough.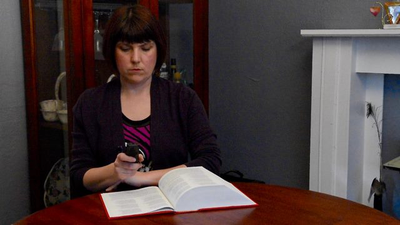 Cast & Crew
Frances: Nicole McLaughlin-Lublin
Dr. Ramos: Katie Simón Atkinson
John: Doug Kusak
Debra: Carrie Williams
Sonnet Slam Participants: Kanela Booker, Billy Hallal, Dale Hopkins, Brian Pedaci, Bryan Ritchie, Peter Toomey, and Monica Zach
Writer/Director: Nicole McLaughlin-Lublin
Director of Photography: Jeremy Lublin
AD: Monica Zach
Sound Recording: John Powell
Editing: Nicole McLaughlin-Lublin
Sound Editing/Foley: John Powell & Kyle Hartzell
Composer: Mark Meilander